Prof. M Yunus and his Social Business Vision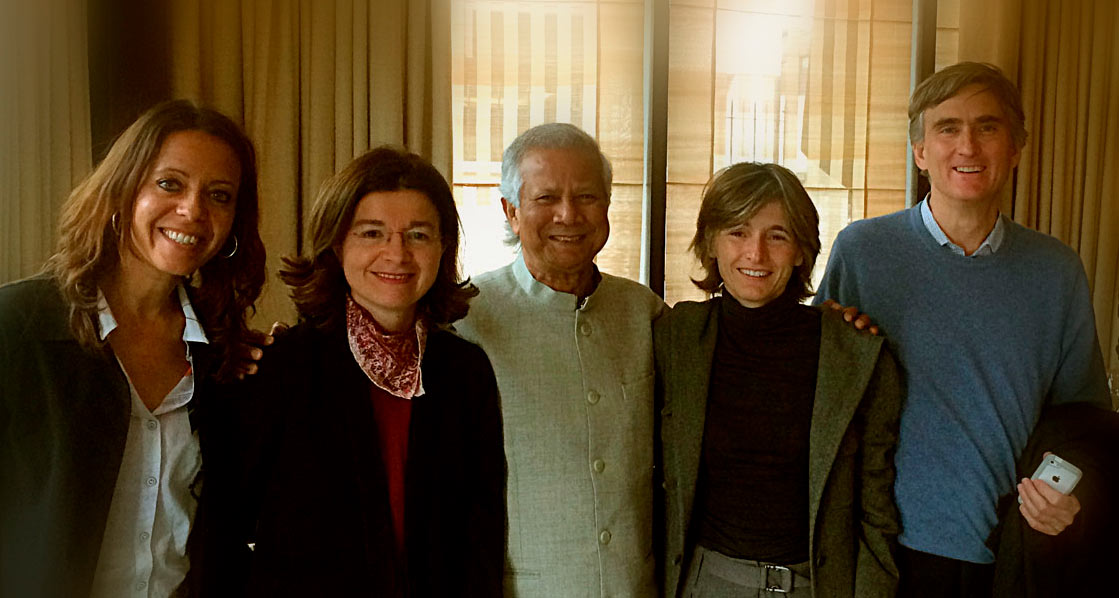 A Social Business is different from the conventional one and it is also different from a non profit organization that needs grants... Professor M. Yunus the father of Social Business tells us more about it.
 We met Yunus just a year ago a rainy day in a central London hotel. Prof. Muhammad Yunusis known as the father of Social Business and Microcredit. He has also been awarded with the Nobel Peace Prize and he has founded Grameen Bank as well as a great number of businesses at Bangladesh.
Precisely Prof. Yunus told us something that we still clearly remember. We have just asked him if he thought that poverty could be conquered. Yunus answered quietly: "If you put your mind seriously into a problem, you may open the door to solve it globally" and he went on explaining us the joint-venture of Grameen with Danone that launched a fortified sweet yogurt for the poor malnourished children of Bangladesh at a price they could afford it. This yogurt was produced with earnings that afterwards have been reinvested in the company.
In a simple way, Yunus gave us the explanation about the Social Business beginning: "whenever I wanted to solve a social problem, I faced it generating a new Social Business around". And at present he has promoted more tan 50 Social Business covering a wide range of issues: nourishing, water, health, energy….they all have in common being 100% social impact.
Thus, it makes sense to promote businesses that are susteinable and are cause-driven. This is what is known as a Social Business.
A Social Business is diferent from a non-profit organization. A charity or a foundation is a heritage linked to a general interest aim. It does not seek to become a business nor has an ownership in the same way as a company. Instead, a Social Business wants to generate a sustainable business and does not want to be granted.
A social business also differs from the Corporate Social Responsibility (CSR), that are trying to do good to the people while conducting their business.
A social business is a real business but cause-driven. This means that the company must cover all costs and make profit, and at the same time achieve a social objective, such as, healthcare, housing, nutrition, providing safe drinking water, energy, etc. in a business way.
Prof. Yunus has defined two different types of social business. Type One focuses on businesses dealing with social objectives only. It is a company without losses and without a pay out policy, every earning is kept for the company. Type Two can take up any profitable business and it is owned by the poor and the disadvantaged, who can gain through receiving direct dividends or by some indirect benefits.
Yunus explains the Social Business with the Seven Principles of a Social Business:
Business objective will be to overcome problems (such as education, health, technology access, and environment) which threaten people and society; not profit maximization.

Financial and economic sustainability.

Investors get back their investment amount only. There´s no dividend.

When investment amount is paid back, company profit stays with the company for expansion and improvement.

Being environmentally conscious.

Workforce gets market wage with better working conditions.

...do it with joy
Just an example: http://www.yunussb.com/portfolio/akorion-limited/
Open Value Foundation promotes investing in Social Business either directly or through a Social Impact Fund. These investments cover our needs in a wider way as they offer both social and financial returns.